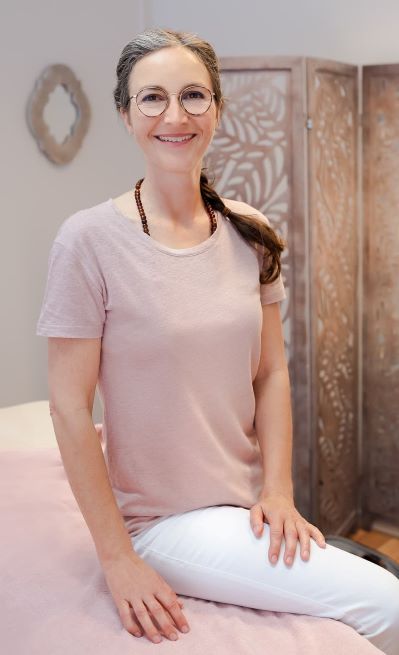 Welcome and thank you for visiting my site. I would like to introduce myself and also Ayurveda as a life science and comprehensive health system.
My name is Marie-Louise. I'm from Switzerland, where I grew up and lived for almost 40 years. Relationships with people have always been a vital part of my working life. My husband and I had a desire to live abroad and we relocated to New York, where we spent six exciting years before moving home to Switzerland. Then, the time was ripe for me to pursue my passion for Ayurveda through further education, and I opened my own clinic.

I completed my training as a certified Ayurveda massage practitioner and nutritionist at the European Academy of Ayurveda in Switzerland and Germany. The rejuvenating, balancing effect of the oil massages fascinates me every day anew. My love for this holistic approach to well-being and vitality led me to take action as a health advocate. So, for many years, I have felt priviledged in my joyful work. In early 2020, we relocated again, this time to beautiful Copenhagen.
Let me help you balance your life energy through massage, nutrition and lifestyle practices using the principles of Ayurveda…… read more in the Ayurveda tab.
An Ayurvedic massage is performed with warm oil. It has a harmonizing, balancing, calming, grounding, rejuvenating and vitalizing effect. It eases tensions and activates the blood circulation. See the various options in the massage tab.
Ayurvedic nutrition advice covers all aspects of everyday life and is based on fresh, organic whole food. Most people experience the Ayurvedic diet as soothing, strengthening and mood-enhancing. Nourishing meals are prepared to support our general well- being. With little effort and much pleasure, we can integrate Ayurvedic principles into our favorite recipes. See the options in the nutrition tab.
Certified at Rosenberg European Academy of Ayurveda:
Ayurveda Massage Practitioner — 2015
Ayurveda Nutritionist — 2019